Word of Outreach..."A Word Centered Training Center"
The Boldness of Homosexuals
Why are homosexuals bolder today than ever before? Why are those who are "going after strange flesh" (Jude 7), who "dishonor their own bodies between themselves" (Romans 1:24), and who vex society with their filthy lifestyles so confident as to do it in your face? The answer is in an anemic Church, and a compromised State! Both Church and State have their leaders who bear the blame.
It's the preacher and the politician who embolden the populace. Hear what the Lord had to say about His ministers: "Because they ministered unto them before their idols, and caused the house of Israel to fall into iniquity…they shall bear their shame, and their abominations which they have committed" (Ezekiel 44:12, 13). This is what God's Word says about the politicians: "And he shall give Israel up because of the sins of Jeroboam [elected king by the people], who did sin, and who made Israel to sin" (1 Kings 14:16). The preachers' lives are iniquitous; and the politicians' lives are wicked.
What should a Christian do who perceives his pastor or spiritual leader to be a person who engages in, compromises with, or even voted for anyone supporting laws for same-sex marriage, or civil unions?

The answer: "Let them alone: they be blind leaders of the blind…" (Matthew 15:14).

They, "Professing themselves to be wise, they became fools…to dishonor their own bodies between themselves…" for "…they which commit such things are worthy of death, not only do the same, but have pleasure in them that do them" (Romans 1:22,24,32).
What should a morally upstanding, law abiding citizen of a Republic do, if his/her President, governor, senator, congressman, mayor or representative introduces, supports or makes any law "…which frameth mischief [justify sin] by a law?" (Psalm 94:20).

Ask the Almighty God to remove the Saul, with or without voting him out, and replace him with a David, a person who's heart is after God (Acts 13:21,22).
You may ask, why am I hitting this politically incorrect issue so hard?

The general Church knows religiosity, but not nearly enough truth.

And the average U.S citizen doesn't even know what a Republic is; not to mention the Declaration of Independence, the U.S. Constitution and the Bill of Rights. The apostle Paul wrote, "And for this cause God shall send them strong delusion, that they should believe a lie: That they all might be damned who believed not the truth, but had pleasure in unrighteousness" (2 Thessalonians 2:11, 12).
There are many intelligent fools, including those who are damned by God Himself.

King David said, "The wicked shall be turned into hell, and all the nations that forget God" (Psalm 9:17).

"…hell hath enlarged herself, and opened her mouth without measure…" and "Hell and destruction are never full…" (Isaiah 5:14; Proverbs 27:20).

My efforts
are to keep people out of hell and hell out of people! Bishop
Robert E. Smith, Sr.
WEEKLY ACTIVITIES
Sunday Morning / 8:30a.m. - 9:45a.m. School of the Bible for ALL Ages
Morning Worship / 10:00a.m. Thanksgiving, Praise and Worship
MONDAY - FRIDAY / 6:00a.m. - 7:15a.m. Morning Manna That Matters
Tuesday / 6:00a.m. Brothers Gather in Prayer and in the Word with Bishop Robert E. Smith, Sr. and Sisters Gather in Prayer and in the Word with Dr. Carolyn Ann Smith.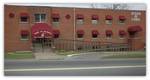 One thing for sure, the effectual
and fervent PRAYERS of the
righteous has availed much for
us!
This type of praying can
do the same for you.
Just call our
24-hour PRAYER hotline
501.663.3329 and receive a PRAYER of DELIVERANCE for
whatever you may
have need of!
3300 Asher Avenue
Little Rock, AR

72204
501.663.0362
www.totaloutreachforchrist.com